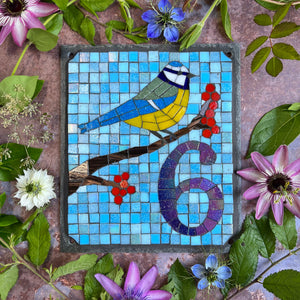 Mosaic house number with a Blue tit
Regular price $161.00 Sale
 Mosaic house number with a Blue tit
These mosaic numbers are perfect to hang on the outside of your home. The glass tiles are all light and frost resistant so shouldn't degrade or fade. The base is a slate tile and from my local reclamation yard.
All the slate is cut by hand which means if you need a specific size other than the stated sizes then just send me a message. There are four holes in each corner so you can easily attach it to your wall. 
If this colour combination isn't quite right for you then just contact me and we can discuss the perfect colours. 
Every number is made to order and each one is individual and as such there is a small variation in some of the tile colour.
Please allow approximately two weeks for construction before posting and at busy times up to four weeks. If you need something by a specific date then please contact me before ordering.
Size is approximately
19.5cm x 22.5cm for a single number
25.5cm x 22.5cm for a double number 
31.5cm x 22.5cm for a triple number